OK - Here is an update of sorts...
I led the Sisterhood of the traveling Crops Chatroom Project today and you can guess what it was! Yep - another Flipbook! I had, after all, those Homecoming photo's to use!!! Here are step by step instructions:
Here is a list of Supplies needed:
1 (12x6) SOLID Cardstock for your COVER (Scored at 2.75" & at 3" on ea edge)
3 (12x5.75) Cardstock for the INSIDE FLIP PAGES (Scored at 3" on ea edge)
2 (5.75x5.75) Cardstock for COVER PANELS
1 (12x5) Cardstock for CENTER FOLD OUT PAGE (Scored at 4" & 8")
2 (5.5x5.5) Patterned Papers to decorate FRONT & BACK COVERS
4 (6x6) Coordinating Patterned Papers used to decorate/embellish pages
Misc Die Cuts, Tags, Flowers, Stickers, etc to embellish
Step 1:
Score COVER 12x6 at 2.75" AND at 3"... and fold both score lines on each side to form a Square shape. (Your edges will NOT meet in the center!)
Step 2:
Score each 12x5.75 FLIP PAGES at 3" on each edge and fold in to form a square and the edges WILL meet on these paegs.
Step 3:
Score the CENTER FOLD OUT PAGE (12x5) at 4" and 8" and fold accordian style.
Step 4:
Adhere FLIP PAGES together by adhering the MIDDLE Flip Page flaps to one of each of the other Inside Flip Page flaps.
Step 5:
Adhere CENTER FOLD OUT PAGE to center Flip Page.
Step 6:
Fold Pages all in to each other so you have a Square. Adhere the flip Pages – gluing the BACK of the CENTER Page to the INSIDE of the opened COVER – center to allow the scored flaps to fold over and cover the Flip Pages.
Step 7:
Adhere (5.75x5.75") Cardsock squares to outside flaps to form COVER pages.
Step 8:
Adhere 2 (5.5x5.5) Patterned Papers to COVERS.
Step 9:
Use remaining papers and misc embellishements (and Photos of course) to decorate as desired!
Step 10:
SHOW IT OFF! No one will believe how easy it really is!
Here are a few Birthday cards made with my newest Cricut Cartridge... so fun!
I got to have my Link fix... he is just getting so big - and I can't TELL you how much he LOVES playing with rocks!!!
Let me give you a brief story... I waited to officially sign up to run this race until last Wednesday! I wanted to get a bit further into the C25K program, to be able to go and run the route at least once, and to see what the forecast for the race day was going to be! I ran the course with a fellow Sparker on Wednesday, and we timed ourselves at about 37 minutes. A little up from last year - but still under 40 and I decided if the weather report looked good - I was up for it! I came home, checked the forecast, and sent in my registration. Then, last night - just on a whim, I checked the Runners/race website to see about time for pre-registered runners and while I found no info on THAT - I did notice that the TIME of the race changed from noon to 9:20am and, for more fun, the weather forecast changed from blue skies and sunshine to rain and rain!? Oh man... so not what I signed up for! But - I decided I normally run in the morning anyway - and I CAN run in the rain, I just prefer not to! So - my Honey came with me, I got my bib and warmed up, hit play on my new Fast Playlist, and started my run! The skies threatened rain but only let out a few drops and then the clouds began to give way to patches of blue skies and it was PERFECT running weather!
In the end, I crossed the Finish Line with a new Personal Record of 33:12... that is just under 11 min miles... 3 of them in fact! It's also 4 minutes off my time from last week, and over 2 minutes off my time from last year - when I had been training longer and more consistently! I really WANTED to make it in 11 minute miles but didn't tell anyone because it just seemed really ridiculous! I mean - after having to quit running due to an injury in March, and just picking it back up a few weeks ago - I was feeling realistic at hoping to come in under 40 minutes. Once I cooled off and refueled, we walked around through our local Farmers Market and my Honey bought me these GORGEOUS flowers... my little 'bonus' reward...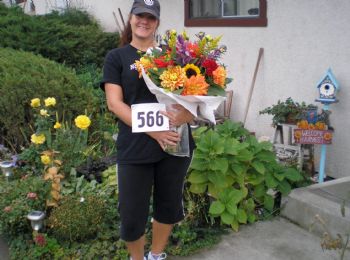 My main reward: Once again - meeting a Goal - and how!
Spark On & Scrap Happy!
~Karrilee~